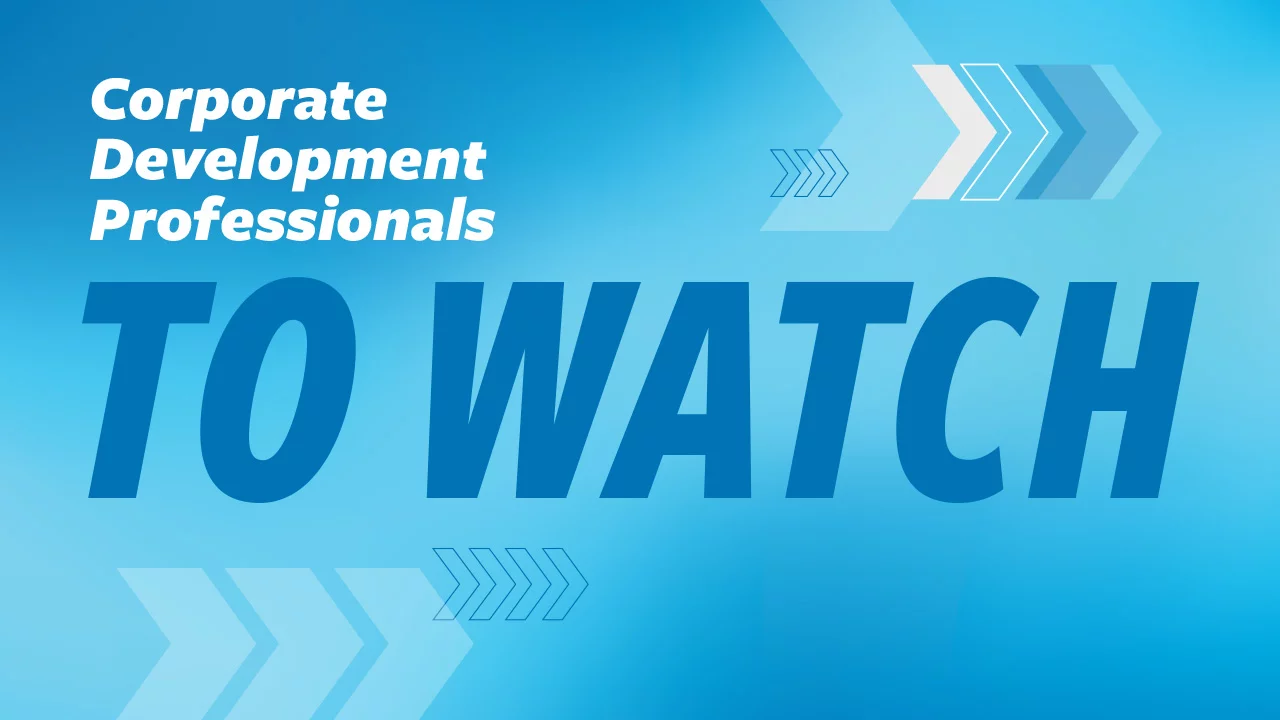 Curated by Middle Market DealMaker Editors
This year's Investment Banking Professionals to Watch list was curated by Middle Market DealMaker editors based on more than 270 nominations from the ACG dealmaking community.
We selected 10 corporate development honorees who represent the diversity of the profession. These 10 represent strategic acquirers of varying sizes and across industries—including telecommunications, healthcare and publishing, among others. Some have been in their roles for years while others are new to the position.
---
This section of the report originally appeared in the Winter 2023 issue of Middle Market DealMaker. Read the full story in the archive.
---
All of them are eager to transact in the coming year, a common theme in the responses they gave when asked about their professional goals for 2023. Read on to learn more about their plans for the year ahead, and their proudest professional accomplishment from 2022.
Jelena Guzenko
Global Vice President, Strategy and Business Development, Schneider Electric | New York, NY
Proudest 2022 Professional Accomplishment: In 2022, I led several highly complex deals spanning multiple geographies for Siemens Energy. In April 2022, after 20 years of a rewarding career with Siemens, I decided to undergo a significant change and joined Schneider Electric to lead global strategy and business development. Since then, I've been leading the strategy for critical initiatives with a focus on decarbonization, such as the buildup of a new Process Electrification Consulting business, exciting M&A and strategic partnership deals, and heading up a sophisticated market and business intelligence team.
Professional Goal for 2023: I identify with Schneider Electric's purpose of empowering the world to make the most of our energy and resources, while bridging progress and sustainability. As the strategy executive, it is my passion to help uncover new opportunities for decarbonization and sustainability, and lead the transformation within and outside our organization. This includes understanding and shaping new technology and market trends, and optimally focusing our resources for organic and inorganic growth, while continuously streamlining our portfolio.
Xavier Chaillot
Chief Corporate Development Officer, Career Certified | Denver, CO
Proudest 2022 Professional Accomplishment: We have completed two acquisitions and expanded into Career Certified, a multi-vertical online education provider for regulated professions. We also acquired Mbition, which complemented our real estate portfolio with AHIT, the leading provider of home inspection education; Stringham School, the leading real estate school in Utah; and Home Appraisal, which is bound to relaunch in 2023. In addition, we acquired Amber Book, a leading provider of exam prep courses for the Architect Registration Exam. Finally, despite a challenging economic environment, the company continued to generate solid organic growth with exceptional profitability.
Professional Goal for 2023: Our objective in 2023 is to further integrate and grow our core and recently acquired businesses while opening up new verticals through further acquisitions. We are focused on bringing the best and highest quality online education to heavily regulated professions to help people realize their aspiration, one person at a time.
Patrick Gilligan
VP, New Business Development, Marubeni America | New York City, NY
Proudest 2022 Professional Accomplishment: Together with our C-Suite in New York City, we established a program to solicit new platform themes from non-industry people in the organization. Promising themes and ideas were researched, vetted and then presented at a senior level. Why? While our industry people are experts, they're often blinded by their career biases and programmed to think conventionally within their industry norms. Through the process, we uncovered some interesting themes that otherwise wouldn't get attention, built target lists and started dialogues. It's also been a great way to get more staff involved in the future of our organization.
Professional Goal for 2023: My goal in 2023 is to source more deals by being quicker and more decisive. It's getting more difficult for corporates to see deal flow, and one culprit is the inability to respond and act quickly. When comparing ourselves to very transactional PE funds, sellers and advisors see us as slow and time consuming. Naturally, they'll prefer to work with the funds. Seeing more deals will require not only doing more outreach, but also being more responsive, so advisors can trust they will get feedback in a timely manner when they share. To this end, maybe in 2023 we track days between events—for example, how many days are there between when we get a teaser to when we either decline or sign an NDA. There are many other events we can measure. We need to have data points on how good or how bad we are.
James Tidwell
Director, Corporate Development, AMETEK | Berwyn, PA
Proudest 2022 Professional Accomplishment: After a record year for AMETEK in 2021, I am proud of the AMETEK team for successfully integrating new businesses and closing two acquisitions in 2022. Both companies are market leaders in their respective niches with advanced technology. This may sound strange coming from a deal guy, but I'm also proud of the deals we walked away from this year. AMETEK has a long, successful track record of acquisitions, and our deal discipline of not overpaying and not taking unacceptable risks is core to that success.
Professional Goal for 2023: To use AMETEK's free cash flow and strong balance sheet to set new records for our capital deployed on strategic acquisitions.
Matt Hinson
Chief Business Development Officer, American Trailer Rental Group | Ft. Mitchell, KY
Proudest 2022 Professional Accomplishment: In 2022, I'm most proud of being named chief development officer at American Trailer Rental Group. The team here has a proven history of operational excellence and executing on both an organic growth strategy and M&A. Before joining ATRG, I was SVP of development at Orthopedic Care Partners. In that seat I was able to heavily influence growth. We grew that business from 20 physicians in Florida to over 115 across four states. I was ready to lead a development program of my own, though. After meeting Jonathan Brooks (CEO of ATRG) and the rest of the team, I immediately realized that this team is building something remarkable.
Professional Goal for 2023: ATRG has as a strong track record of acquisitions, led by CEO Jonathan Brooks and Lucas Wright, our CFO. My goal for 2023 is simply to help accelerate the strong work they've already been doing. I appreciate the opportunity they have given me here and the resources they've dedicated to formalizing an M&A program. If I continue their pace of deals and value of EBITDA acquired, I'll call it a win.
Yvanna A. Lopez (Perez Morel)
Sr. Director of Corporate Development & Innovation Fund, Ulta Beauty | Chicago, IL
Proudest 2022 Professional Accomplishment: In 2022, I am most proud of the launch of Prisma Ventures, Ulta Beauty's own digital innovation fund. We are working with some of the most disruptive entrepreneurs in the retail space to revolutionize the future of the industry.
Professional Goal for 2023: I have big goals for 2023! Many things are happening in the background, but the one thing I can share is that I aim to lead Prisma Ventures to become the top technology corporate venture capital fund in the beauty space. We have a great pipeline of potential investments, and we are excited about the quality of the partnerships we will have completed by the end of 2023.
Seth Collins
Assistant Vice President, Corporate Development, AT&T | Dallas, TX
Proudest 2022 Professional Accomplishment: Successfully transitioning into a new role and organizing a team within it. I was previously responsible for overseeing M&A activities for our Latin American operations. Having led and completed the sale of that business unit in Q4 2021, I transitioned to a new role, becoming responsible for all inorganic activity related to wireless spectrum. This involved a new direct team as well as the development of relationships with our network, policy and regulatory peer groups, among others.
Professional Goal for 2023:
Developing more technical expertise and incorporating that knowledge into business cases. At the crux of all our investment opportunities is the underlying financial and business case, which we are consistently fine-tuning. Applying the latest operational insights and learnings into these cases is a critical best practice and one we are constantly evolving. That will be at the forefront of my mind as we optimize the criteria for capital allocation decisions.
David T. Chen
VP, Head of Corporate Development, Conduent | Fort Lauderdale, FL
Proudest 2022 Professional Accomplishment: Conduent's most significant completed transaction in 2022 was the sale of the Midas suite of healthcare software to Symplr, a Clearlake and Charlesbank portfolio company. This transaction is a textbook example of M&A's ability to unlock hidden value in a company composed of diverse businesses. Midas' $72 million of revenue represented less than 2% of Conduent's total revenue, yet the $340 million consideration paid represented nearly 30% of Conduent's market cap as of transaction announcement. In addition to monetizing an asset at an attractive valuation, the Midas sale supported Conduent's portfolio simplification efforts. We eliminated a non-core business that lacked cross-selling or other portfolio benefits, including relative to Conduent's remaining commercial healthcare offerings.
Professional Goal for 2023: Conduent intends to continue to drive value through M&A, both through acquisitions and divestitures. Conduent is well-positioned as an acquirer in the current market environment, given our robust business mix, moderate leverage and investor base. Acquisitions will enable acceleration toward our strategic objectives, whether expansion in growth areas or nascent capabilities (e.g., AI, digitalization, automation). At the same time, since we separated from Xerox, divestitures have been an important component in Conduent's journey as a standalone company, contributing to our business transformation and pivot to growth. Consideration factors include each business's fit with the remainder of Conduent, contribution toward profitable growth and the ability to succeed as part of Conduent.
Taha Ahmed
Chief Growth Officer, Forbes | Jersey City, NJ
Proudest 2022 Professional Accomplishment: I created a new division at Forbes with the sole mission of diversifying and accelerating revenue growth. I built a team of more than 20 professionals that will serve as core growth infrastructure for the organization and enable Forbes to drive growth more effectively through M&A, joint ventures, partnerships and new business incubation.
Professional Goal for 2023: Building new businesses and expanding the Forbes brand into new sectors that extend beyond media.
Daniel Nauheim
Chief Growth Officer, Medrina | New York, NY
Proudest 2022 Professional Accomplishment: I started in 2019 as the CFO of National Health Rehabilitation, a national sub-acute physiatry (physical medicine and rehabilitation) medical practice. NHR was a founder-owned and -operated practice, which we brought to market in early 2020. We were having management meetings the second week of March 2020, which coincided with the pandemic-related shutdowns. We ultimately put our sale process on hold and reinvested in growing the business. I spearheaded those efforts during this time. Additionally, we invested in our management team and technology infrastructure, which helped drive growth in total enterprise value between our first and second sell-side process. I also spent significant time building an acquisition pipeline and doing diligence on potential targets that we could acquire once we had a balance sheet to transact with.
We brought the company back to market and sold to Integrated Rehab Consultants in the second half of 2021. Post-sale, I became chief growth officer to focus on our deal pipeline and integration efforts. In 2022, I spearheaded our buy-side efforts, including three successful acquisitions, which led us to rebrand as Medrina. These transactions have added 150 practitioners to our organization, resulting in Medrina doubling in size in 12 months.
Professional Goal for 2023: To continue to identify and acquire outcomes-focused healthcare services organizations, which in turn will create a novel healthcare ecosystem yielding optimal patient outcomes while delivering savings to the system as whole.
Other Articles